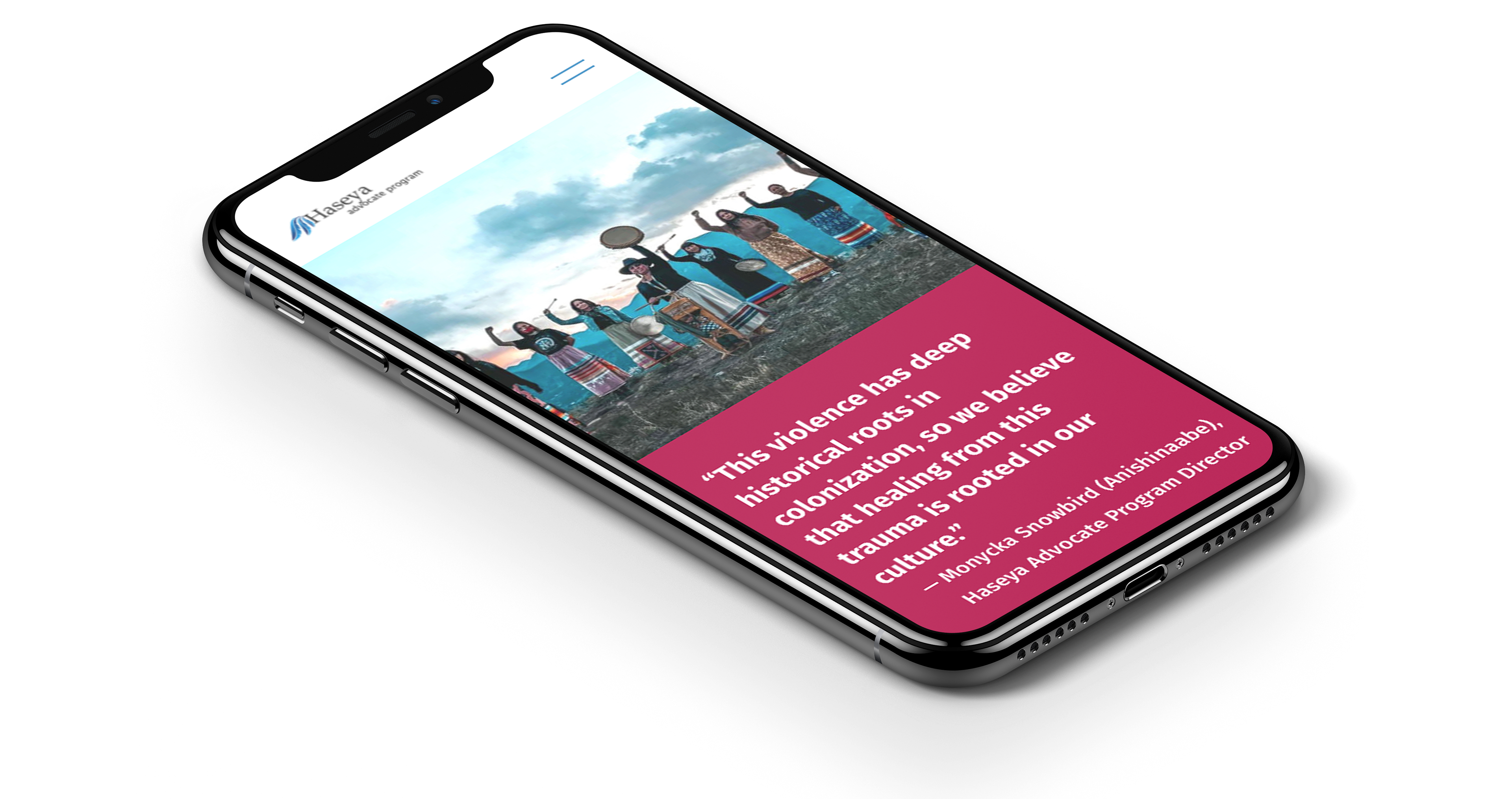 Haseya Advocate Program
Haseya Advocate Program is a Native woman-led organization serving Indigenous survivors of domestic and sexual violence in the Colorado Springs region. Haseya empowers Native survivors to overcome domestic and sexual violence by providing culturally sensitive and appropriate advocacy, including safety planning, access to information and resources, accompaniment, and problem solving.

Content Strategy
Content strategy began with getting to know our client, their services, and an audit of Haseya's
former site
. Haseya's services are both unique and essential. While their former site contained great information and resources, it was so confusing to navigate that users would likely not be able to find what they needed.​​​​​​​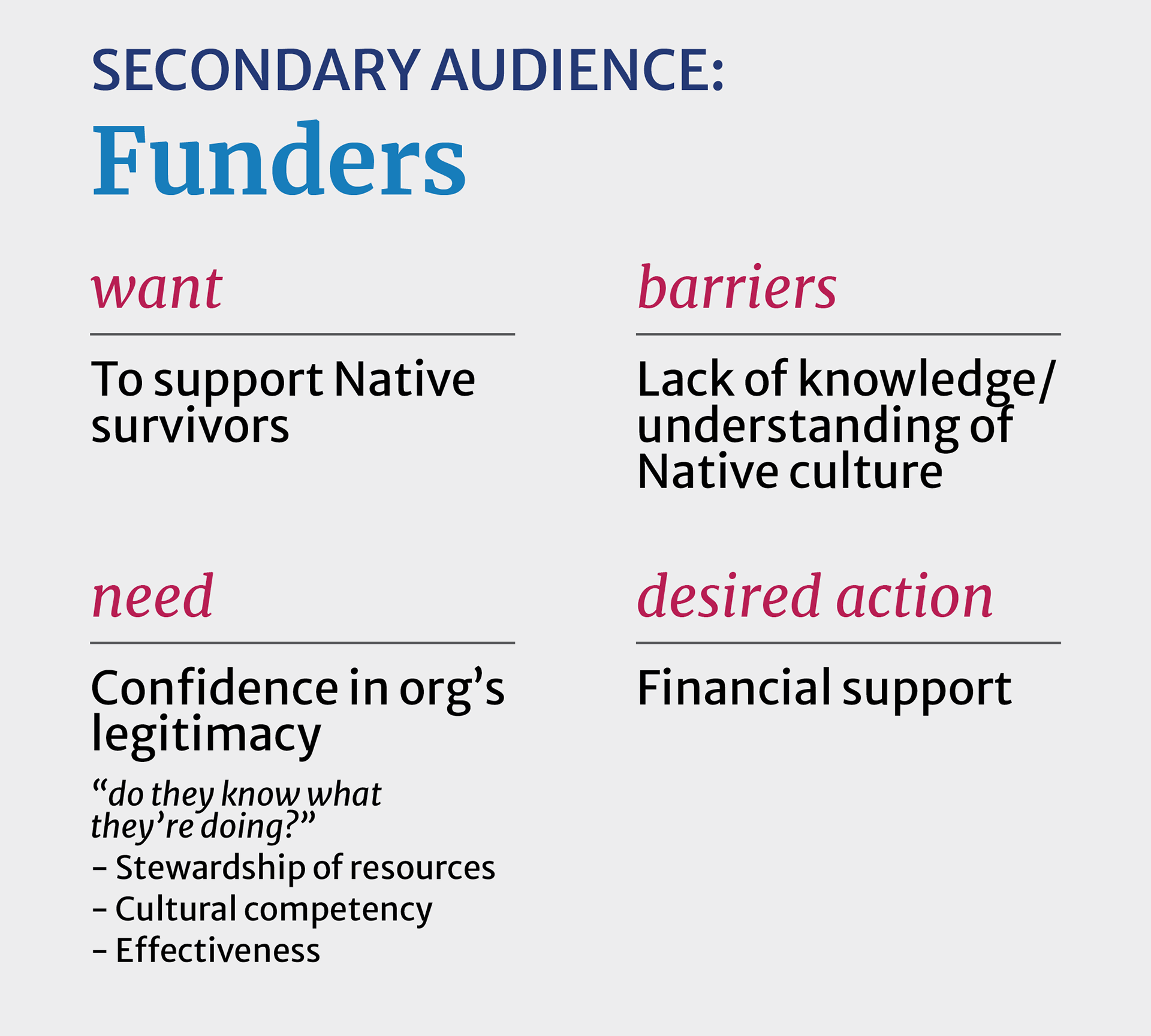 Building Trust with our Audiences
While continuing content strategy, we defined primary and secondary audiences to keep in mind. 
When considering the primary audience of survivors, safety was elevated to top priority. Both the physical and emotional safety of this audience drove many UX decisions throughout our process.
Empathizing with the secondary audience of funders reinforced the need for a clear and comprehensive picture of what services Haseya provides, their cultural competency as an Indigenous woman-led organization, as well as a clear path to donation.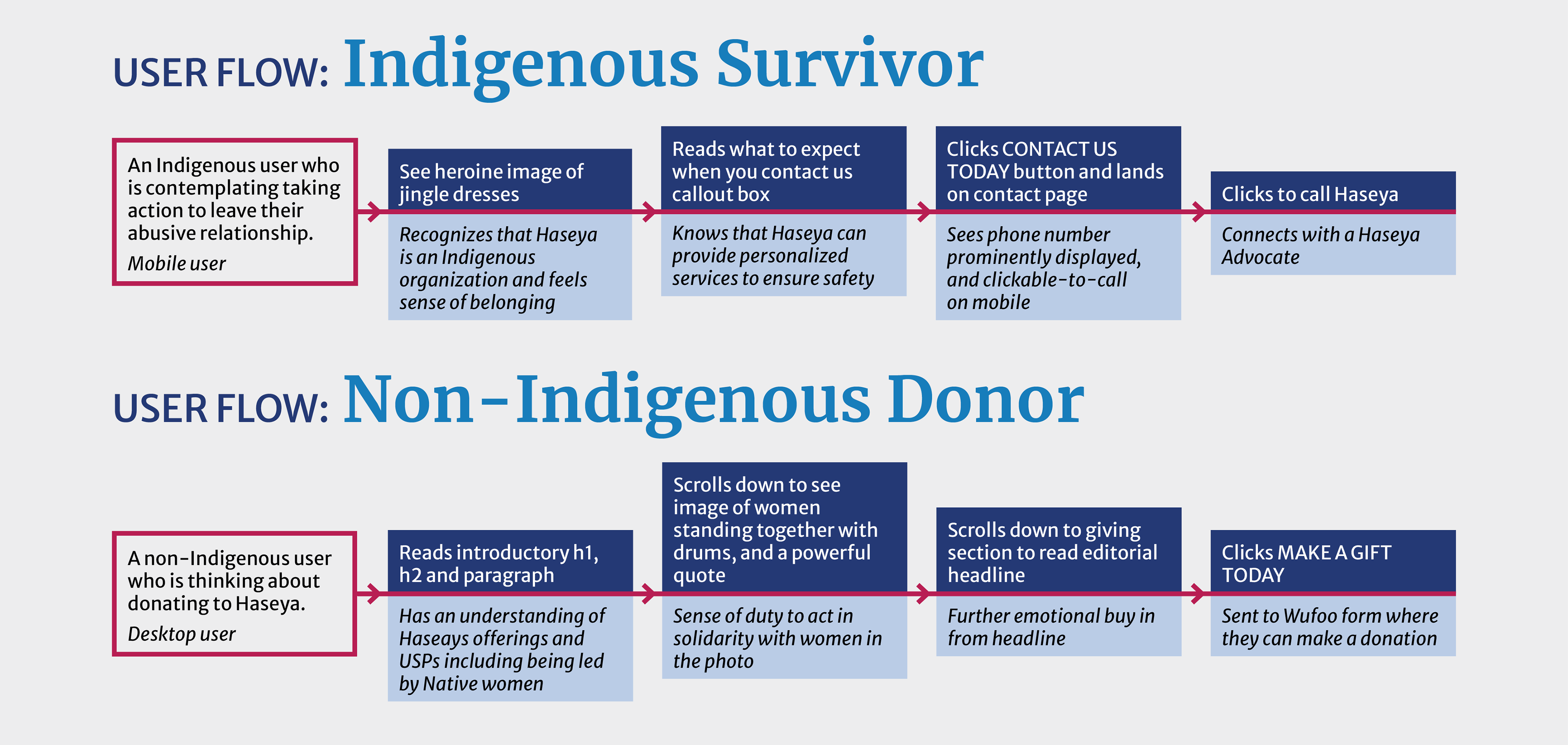 High-level Website Goals
After defining our audiences, we developed a handful of high-level goals:
• Users have understanding of what Haseya is, and what we offer
• Haseya is positioned as culturally competent Indigenous-led org for Indigenous survivors
• Survivors know how to engage services/take a first step, and know what to expect from doing so
• Survivors/people seeking help can find resources within one click
• Survivors feel a sense of belonging and being seen
• Survivors are confident their physical and emotional safety is prioritized
• Funders can easily donate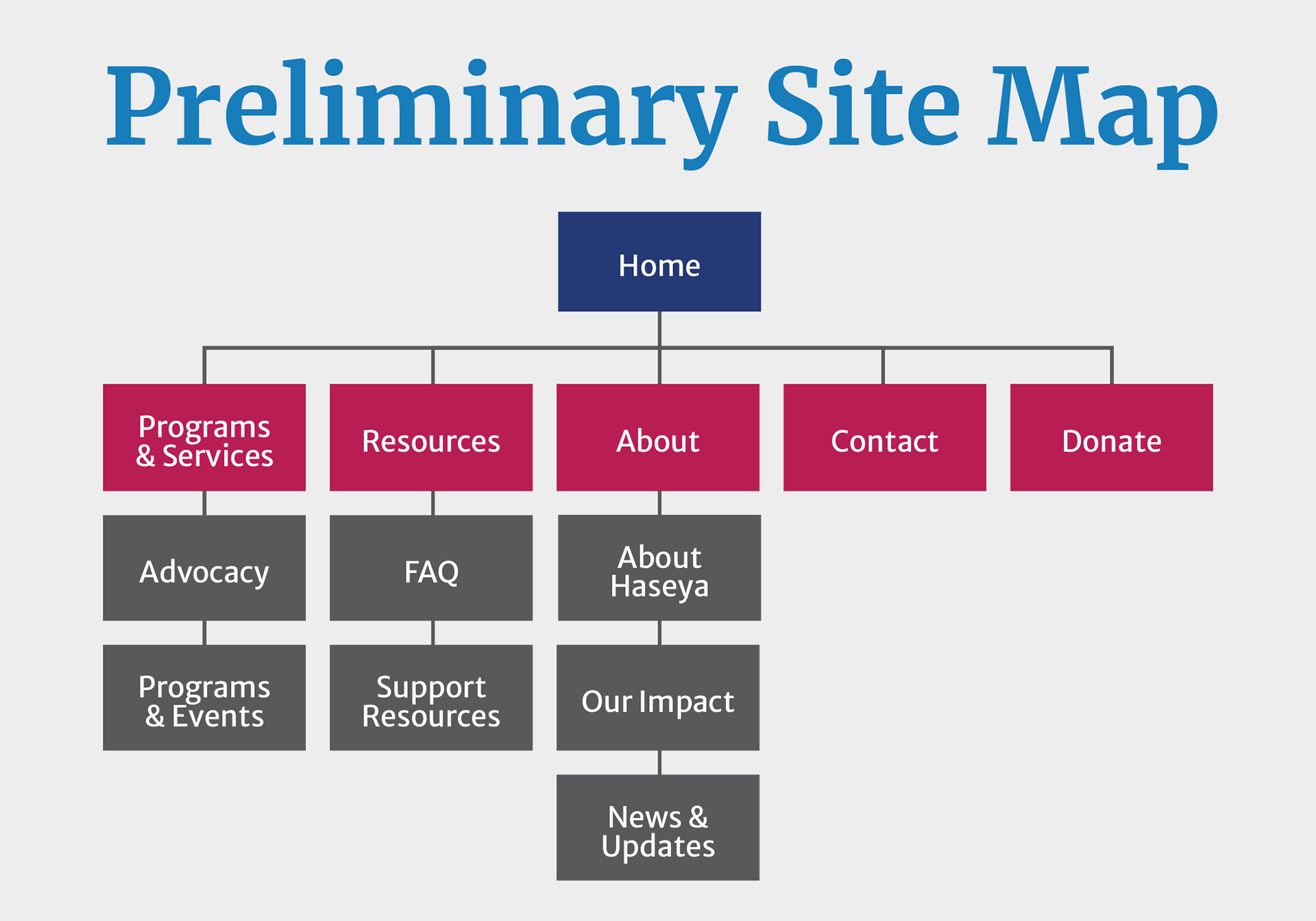 Turning Goals into Features
Haseya shared with us that close to 100% of people who seek out groups, classes, or volunteer positions with them end up being survivors that need their services. This speaks to the fluidity of the sub-categories of our primary audience. Through user empathy we determined that while individuals may identify with any of the three groups at any given time, the needs of an individual in each of these three states are different in some ways.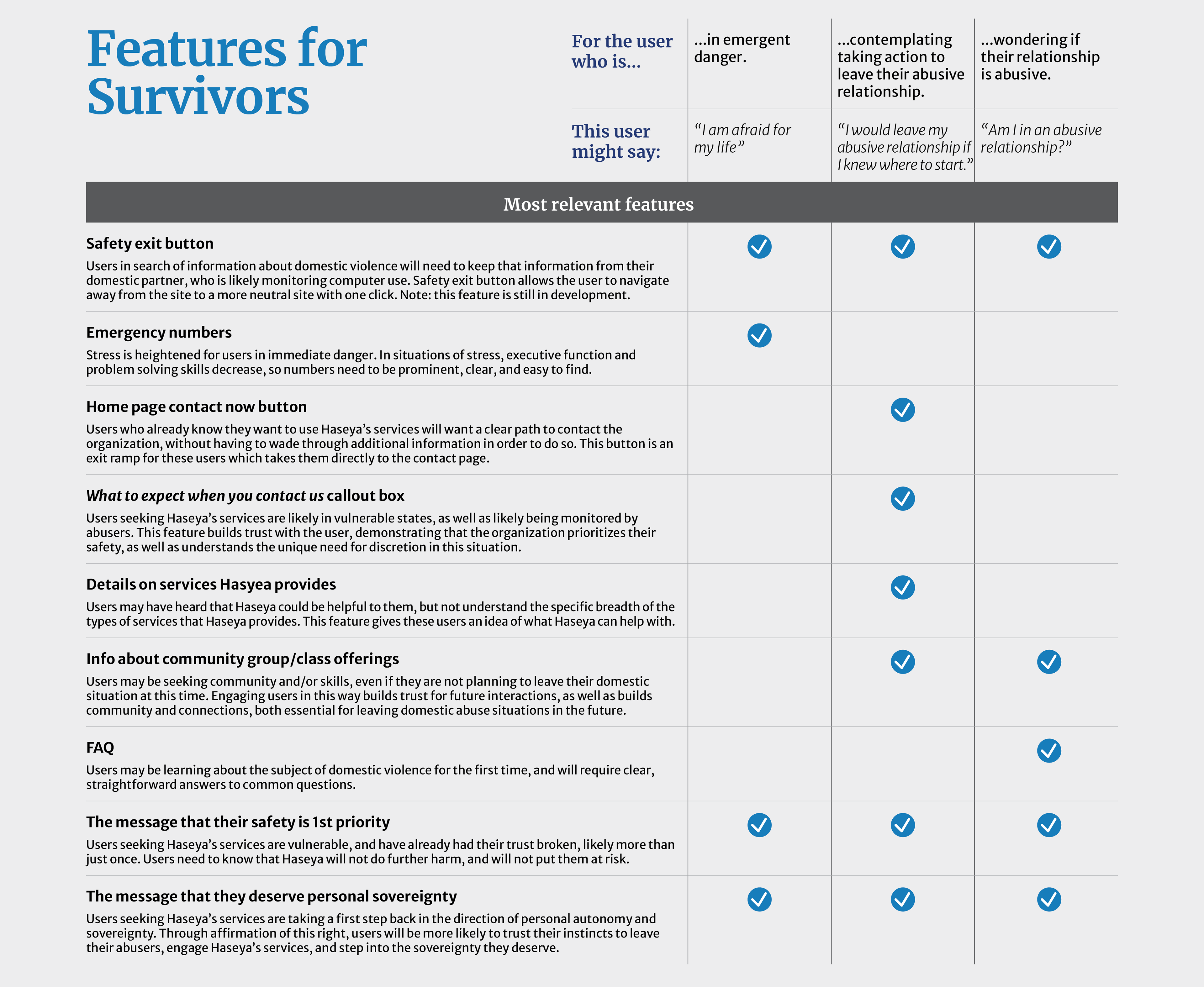 Wireframes
Annotated wireframes allowed us to communicate how and where each of the high-level goals were being met throughout the pages of the site.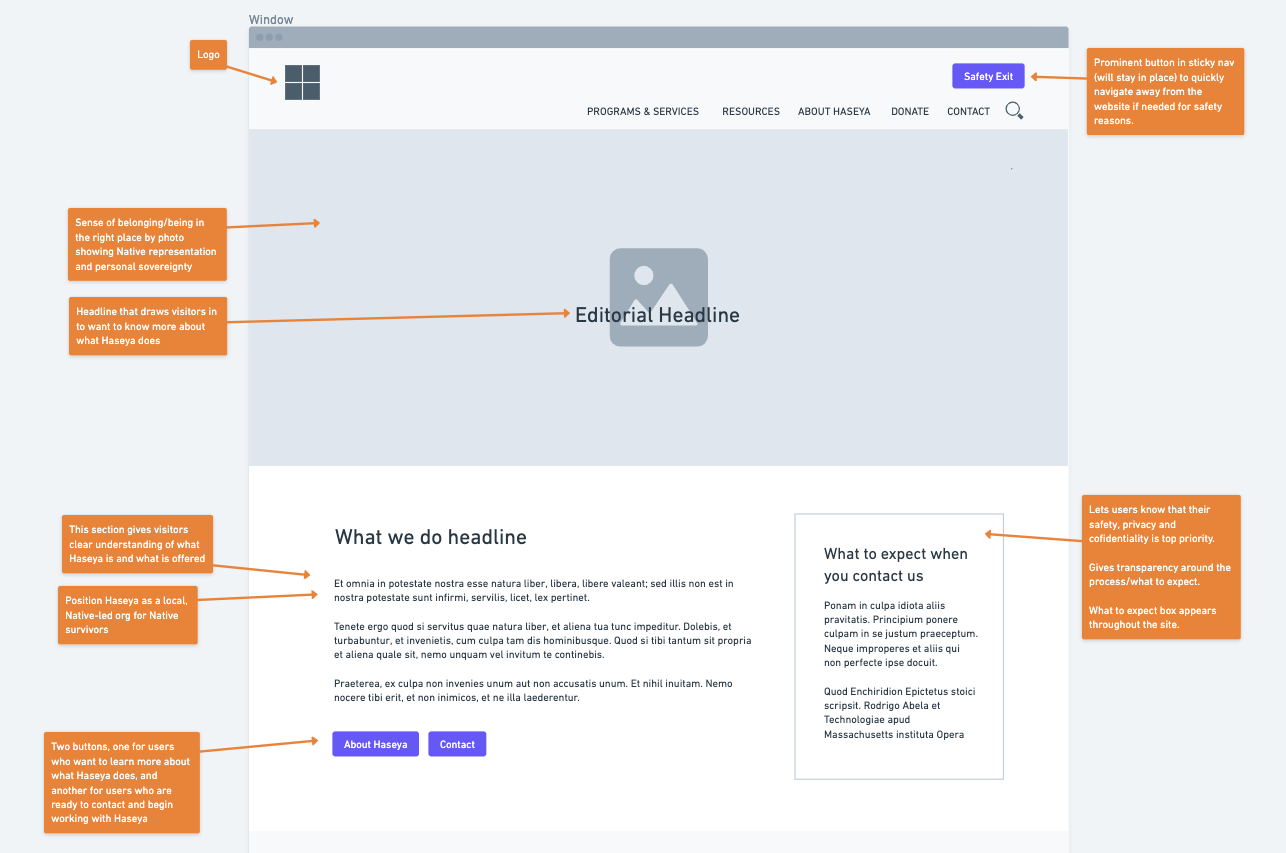 Design & Development in Squarespace
For this particular client's development budget along with their capacity for future maintenance, we determined that Squarespace was the best choice for them.
The site was designed and developed using primarily built in Squarespace features, with a few additional coded blocks where necessary: the
what to expect when you contact us
 callout boxes, as well as the FAQ accordion.
Connecting Survivors to Haseya
Haseya has always done important and meaningful work advocating for Native survivors of domestic violence and sexual violence in the Colorado Springs area, and now they have a website that will allow users to easily find, learn about, and contact them.