PORTSHOWLIO '18: POP-UP STUDIO
Seattle Central Creative Academy's annual graduation portfolio show 'Portshowlio' is a beloved and anticipated event in the Seattle design community. Featuring an Industry Night and a Friends and Family Night, Portshowlio is the way that each SCCA graduating class shows Seattle what we are capable of.
About Portshowlio
• Two-day, forty four-student, graduation portfolio show
• Heavily branded event, complete with installations, video assets, marketing collateral, social media presence, website and gift shop
• Budget of $6k
Timeframe
16 weeks
Skills
Project management
Tools
Whiteboards | Slack | Google Drive
Collaborators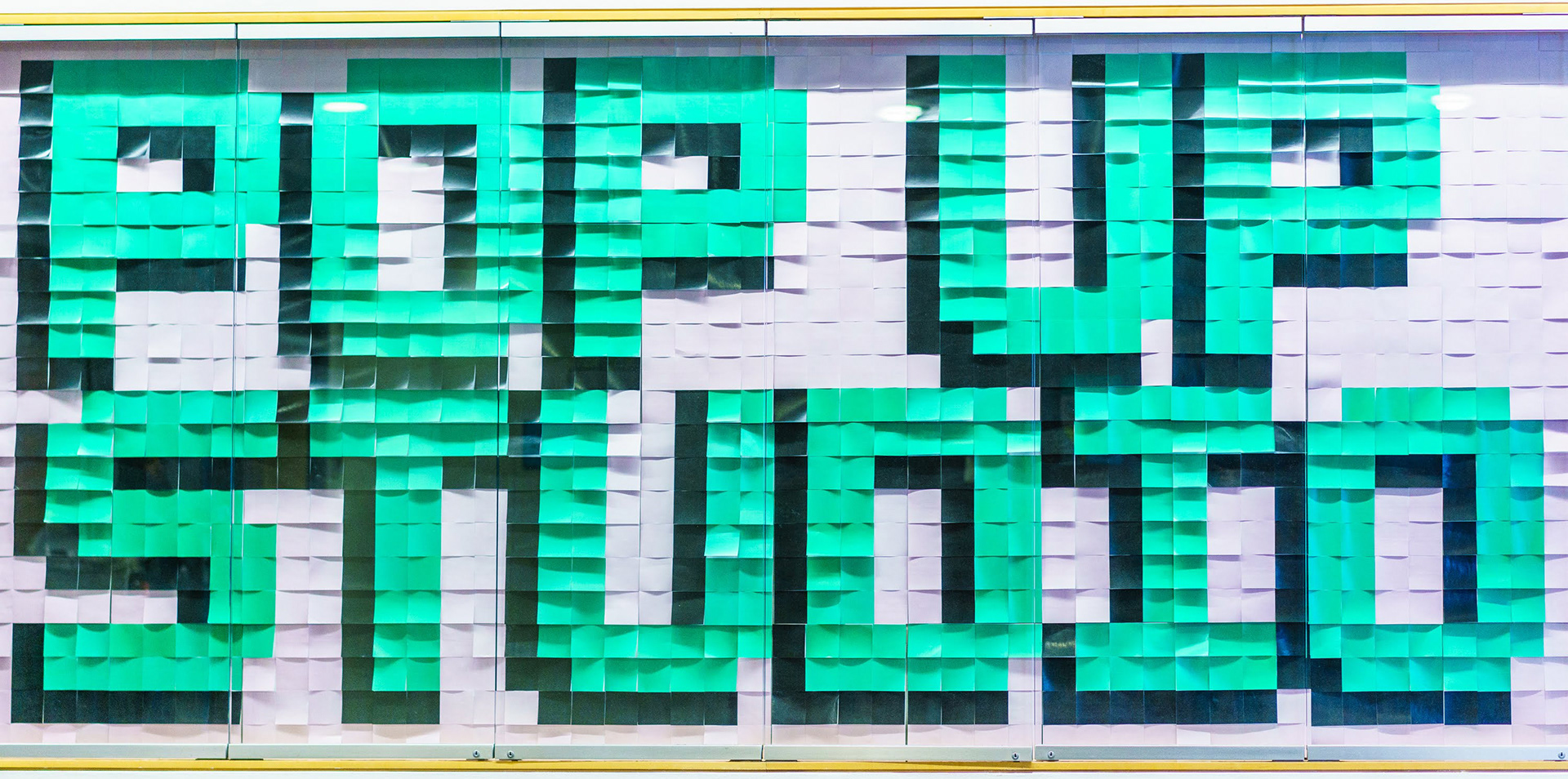 Setting the Tone
Along with the enthusiastic Kate Reingold and detail-oriented Xio Lugo, we on the steering committee agreed early in the process on a few founding principles.
1. Set a positive and inspiring tone each week
Putting our best and most inspiring foot forward, we began each weekly meeting with a mini-presentation full of inspirational gifs, video clips, songs and quotes, put together by Kate. Occasionally we showed old videos sentimental to the class, or featured five-minute relaxation exercises when the mood was tense. We also featured show-related work as often as possible in these meetings, in order to create a feedback loop of inspiration. Starting the day this way set a tone of laughter and levity, and launched us into our most productive work days.
2. Communicate clearly, document thoroughly, and set realistic goals
Innumerable hours were spent by the Steering Committee messaging on Slack, sorting folders in Google Drive, and meeting in person to problem-solve by whiteboard. We wanted to enter each work day fully prepared to take advantage of the time available. We also wanted to use tools to our benefit: organizing ideas, materials and money using multiple spreadsheets and lists. Coming to each day, meeting or hour with pre-determined and realistic goals allowed us to optimally direct the class' progress throughout the quarter. 
3. No 50-person discussions
Because only two or three people end up talking anyway, and it's just a huge waste of time. Any decisions that needed to be made by the class as a whole were strategically framed in a way that would include everyone. That being said, we also promoted the concept of divide into teams and conquer, and let each team be the expert on the problems they have already solved. That way we are not constantly each weighing in on every discussion, and decisions can be more streamlined.
Creating Infrastructure
There is no existing infrastructure to the execution of Portshowlio. All infrastructure must be created, somehow, and that would have been really helpful to know from the beginning, and not find out toward the end of the day week one. After realizing this, the Steering Committee decided that it would be useful to gather the dynamo team of all-female executive team leads to decide how to proceed. We settled on a few rules: lead-to-lead communication, mutual trust of inter-team problem solving, and weekly lead meetings.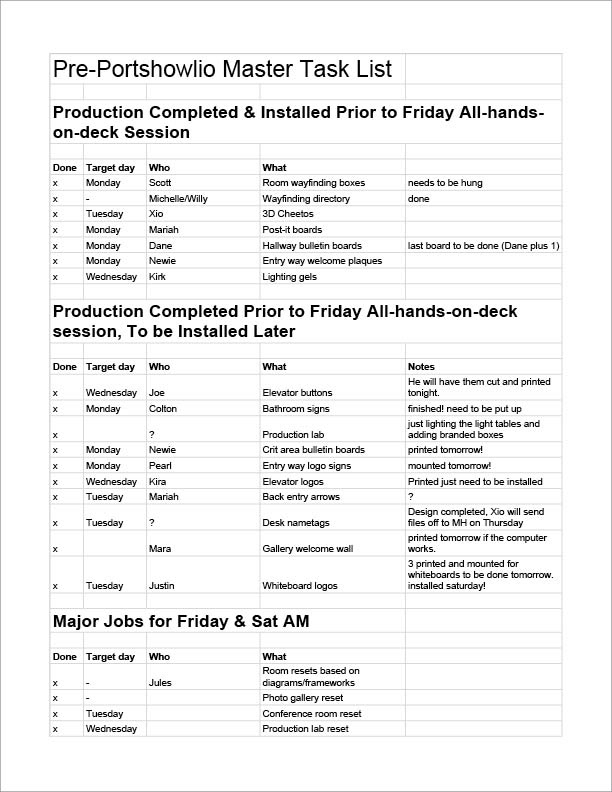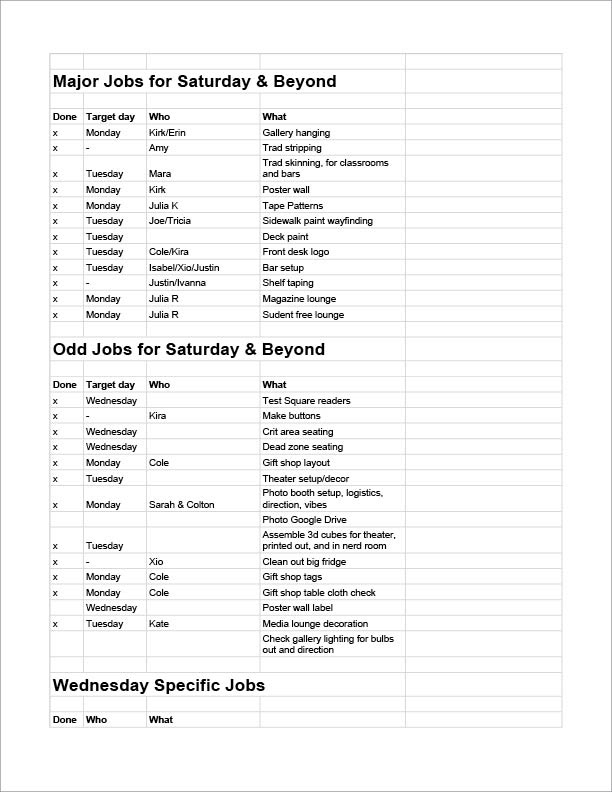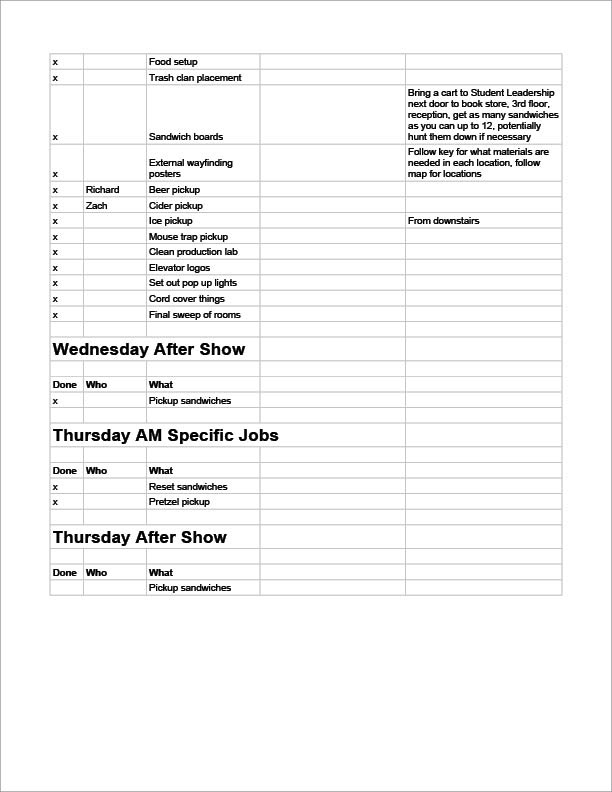 Intercepting Challenges
When coordinating the efforts of forty-four adults, all on personal time-crunches to complete their personal branding and portfolio websites, as well as consider their respective professional  futures, all while living on a student budget, the mood is bound to get stressy, tense, and occasionally desperate. I did my best to set a culture of asking for help, where team leads and individual team members could solicit backup on any Portshowlio tasks when needed. If there's one thing I've learned from coordinating large groups of people, it's that there is always someone who is good at the thing that is hardest for someone else. Intentionally curating teams (after the fact, as steering committee had no input as to who made up what team) was an important success factor for many teams. It was my goal to identify individual strengths, and let those strengths sing, while strengthening the overall team by diversifying skill sets.
Triage and Action Plans
Occasionally teams that seemed to be in distress really only needed to sort through their challenges in order to identify the problem. I met with different groups to help them identify their needs and boil their challenges down to an executable action plan. At times this meant brainstorming what was needed for proof of concept, and at other instances it meant encouraging simplification. Leading team members through the hypothetical process of executing a task allowed them to imagine the tools and resources they needed and create a plan for success.

The steering committee coordinated over 100 students to execute all the installations and tasks necessary to prepare for the show. This process called for in-depth, agile planning. We responded to the ebb and flow of varying available resources, person power, and tasks taking both shorter and longer than planned.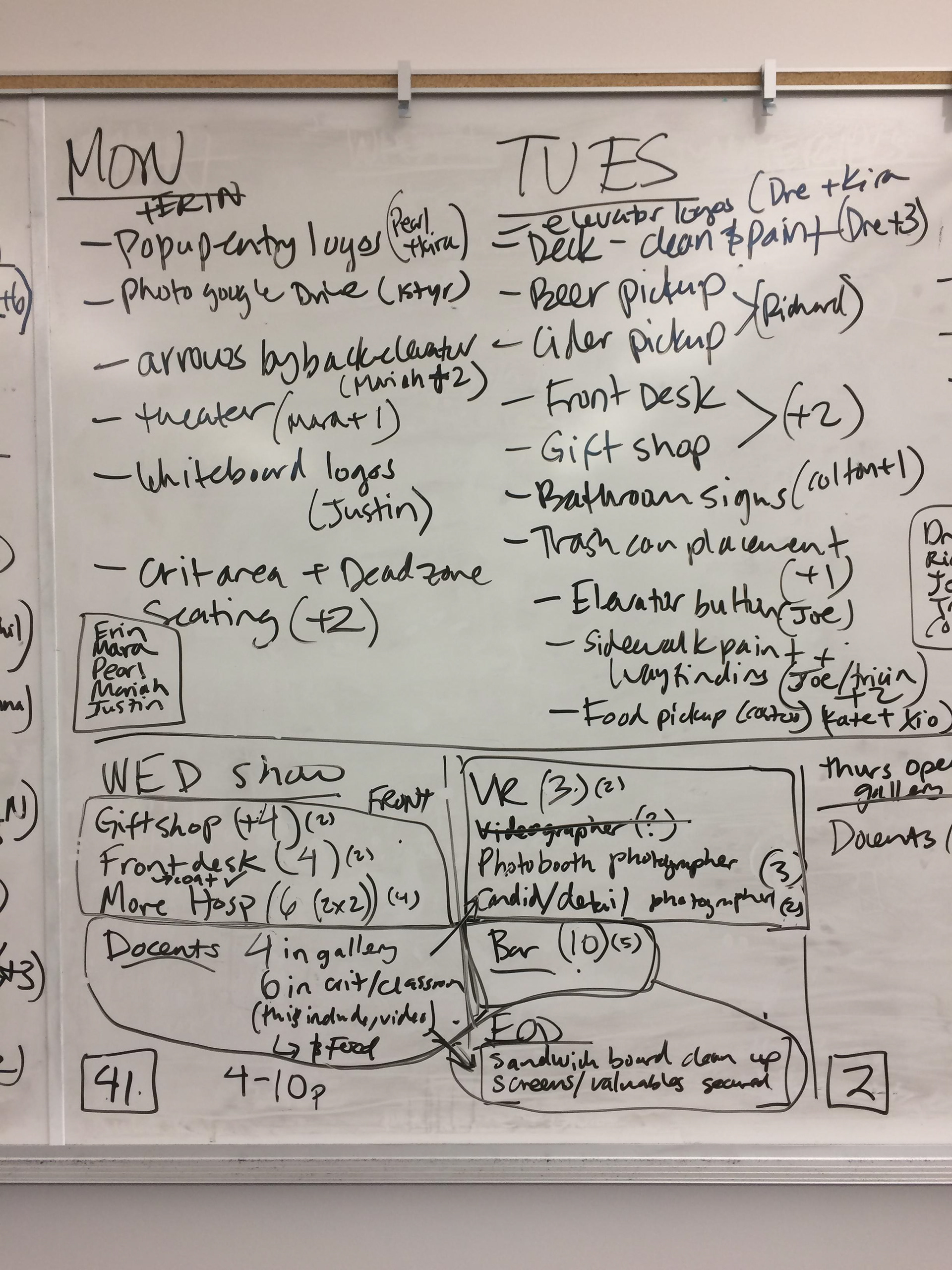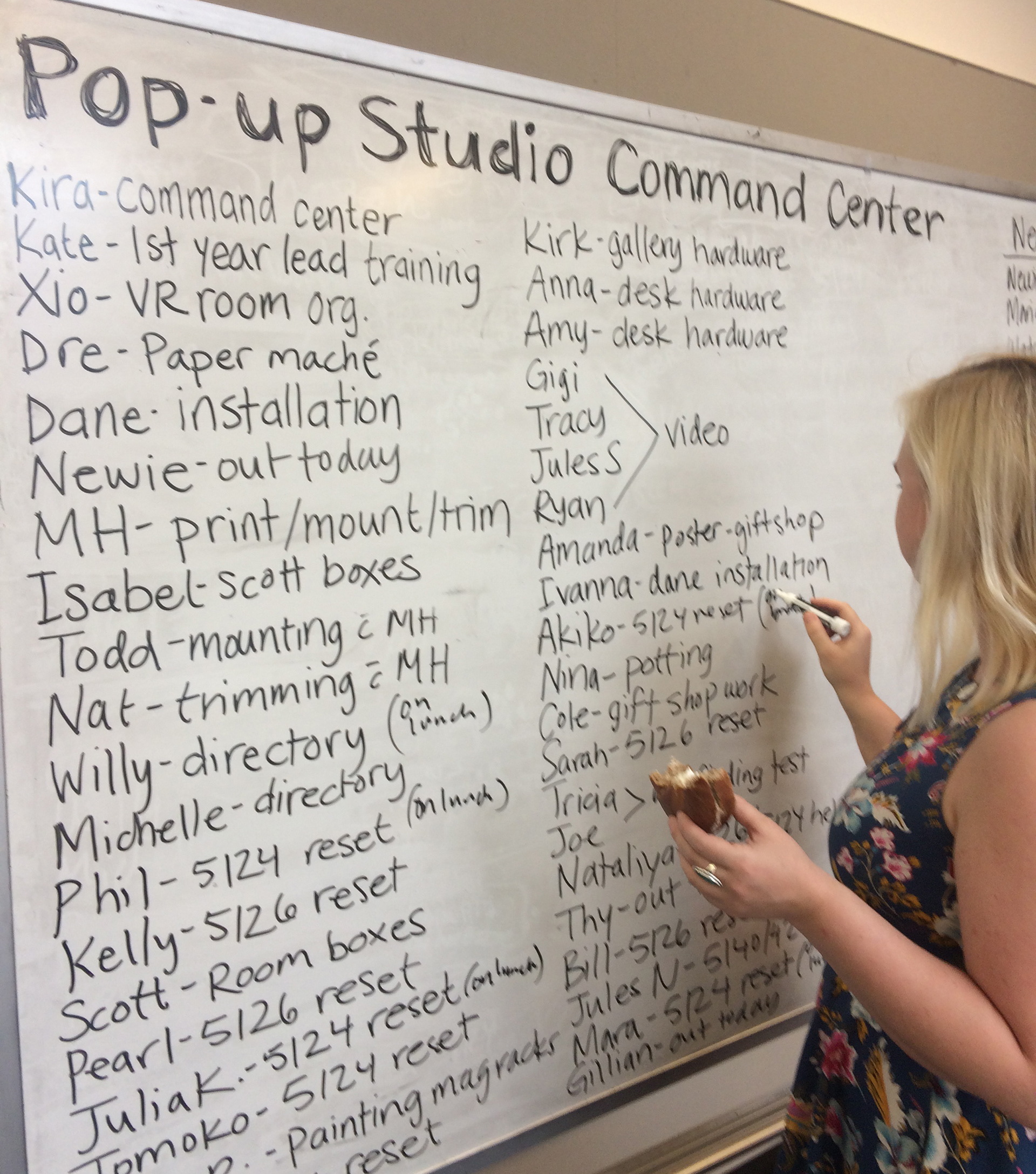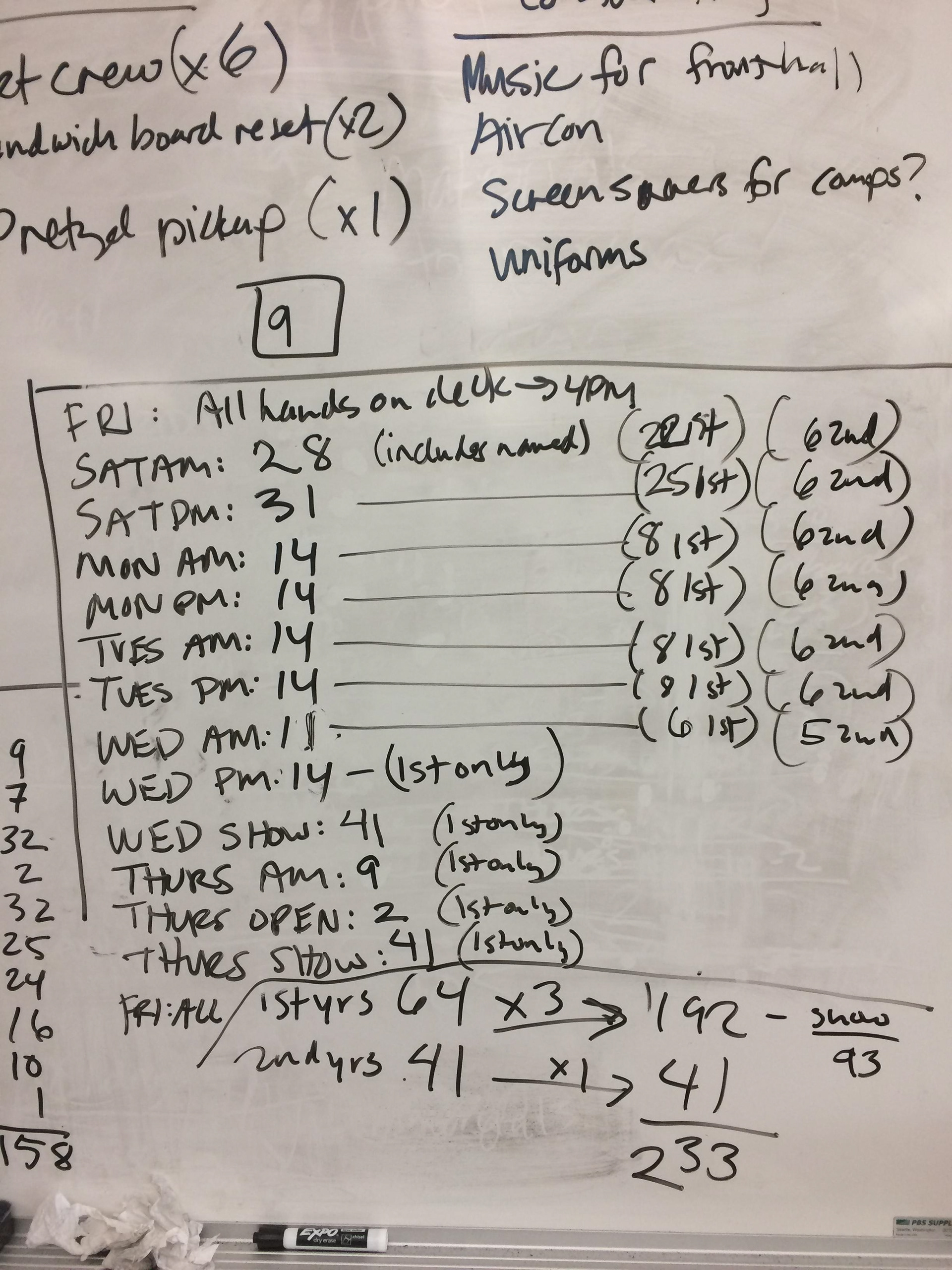 Listening
Most of all I strived to exercise that most important of leadership skills: listening. I listened, repeated back, wrote it down, and when necessary, diffused or redirected back to appropriate tasks. The team built in a fifteen minute vent-session at the beginning of each lead meeting. This time was used for celebrating successes as often as it was used for blowing off steam. I wanted to be as consumed, if not more consumed by the positive than the negative.
Outcomes
Being on the Steering Committee has been 10% Google Drive Headache but 110% satisfaction/joy. Every time a team created something real to share with the group, the outlet of delight was palpable. Our class is unique in that we genuinely derive joy from seeing each other thrive and succeed. The opportunity to be the one guiding this mutually gratifying success mission has been a true privilege.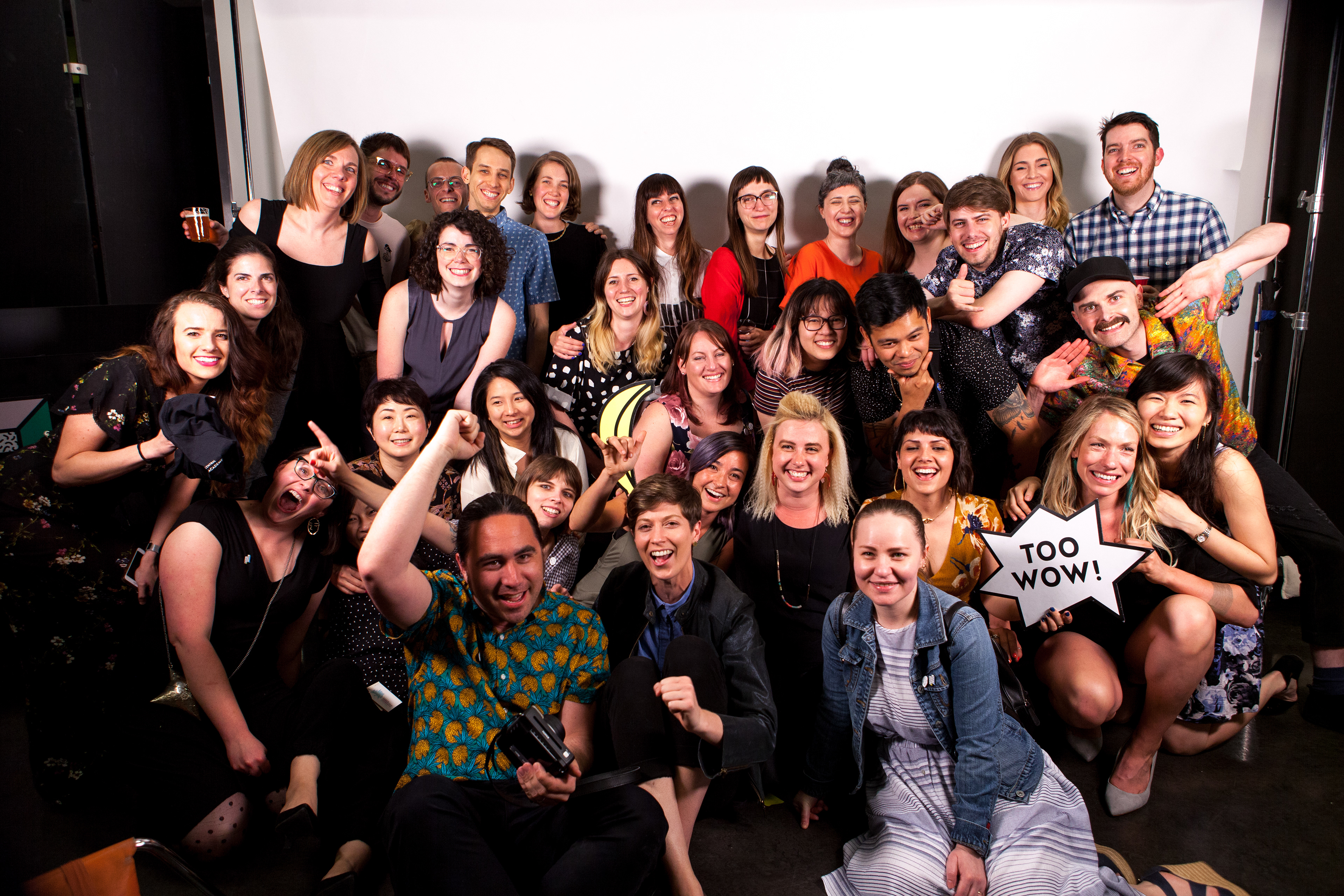 Beautiful Branding
2018's theme was Pop-up Studio, and featured a comprehensive, flexible, modular brand.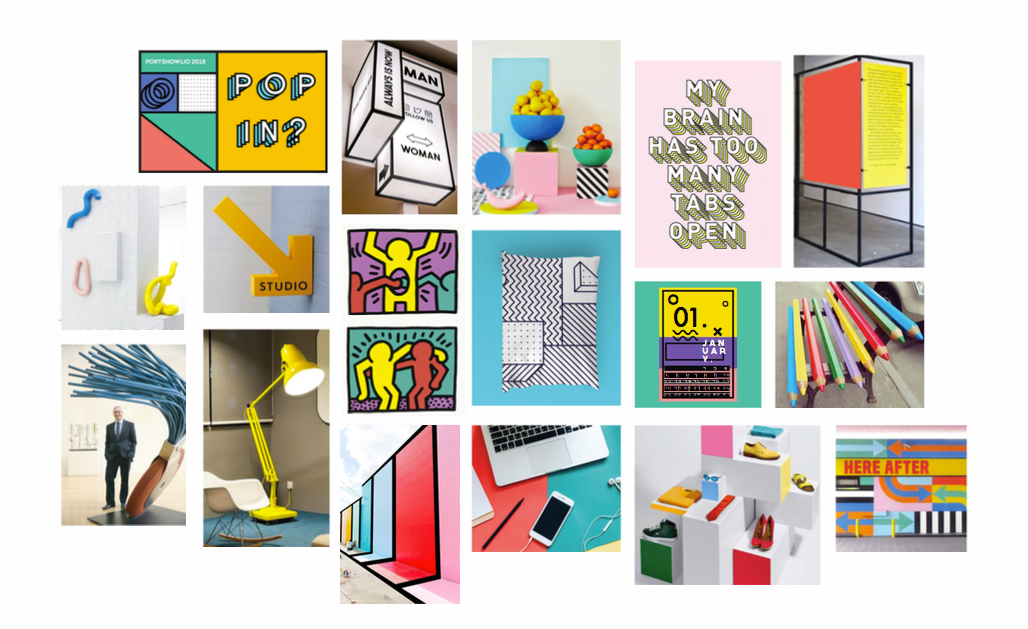 "We have a long term investment in process, tools, and technique and aim to demonstrate our knowledge of design history and the creative process. This concept showcases everything we have learned and accomplished over the last two years and what we will continue to build."
- Brand Concept Statement
The branding process began prior to Spring quarter kick-off. I guided the team to cull a list of suggested themes to several viable options, and facilitated discussion of possibilities, strengths and weaknesses. The branding team then divided up to work on three concepts, which were put to the class for a vote. The chosen brand was then further refined for implementation.
The branding team, lead by
Nina Wesler
, also created the first-ever Portshowlio gift shop, featuring unique, high-brow, delightful brand collateral, ranging from potted succulents to acrylic earrings to posters to totes.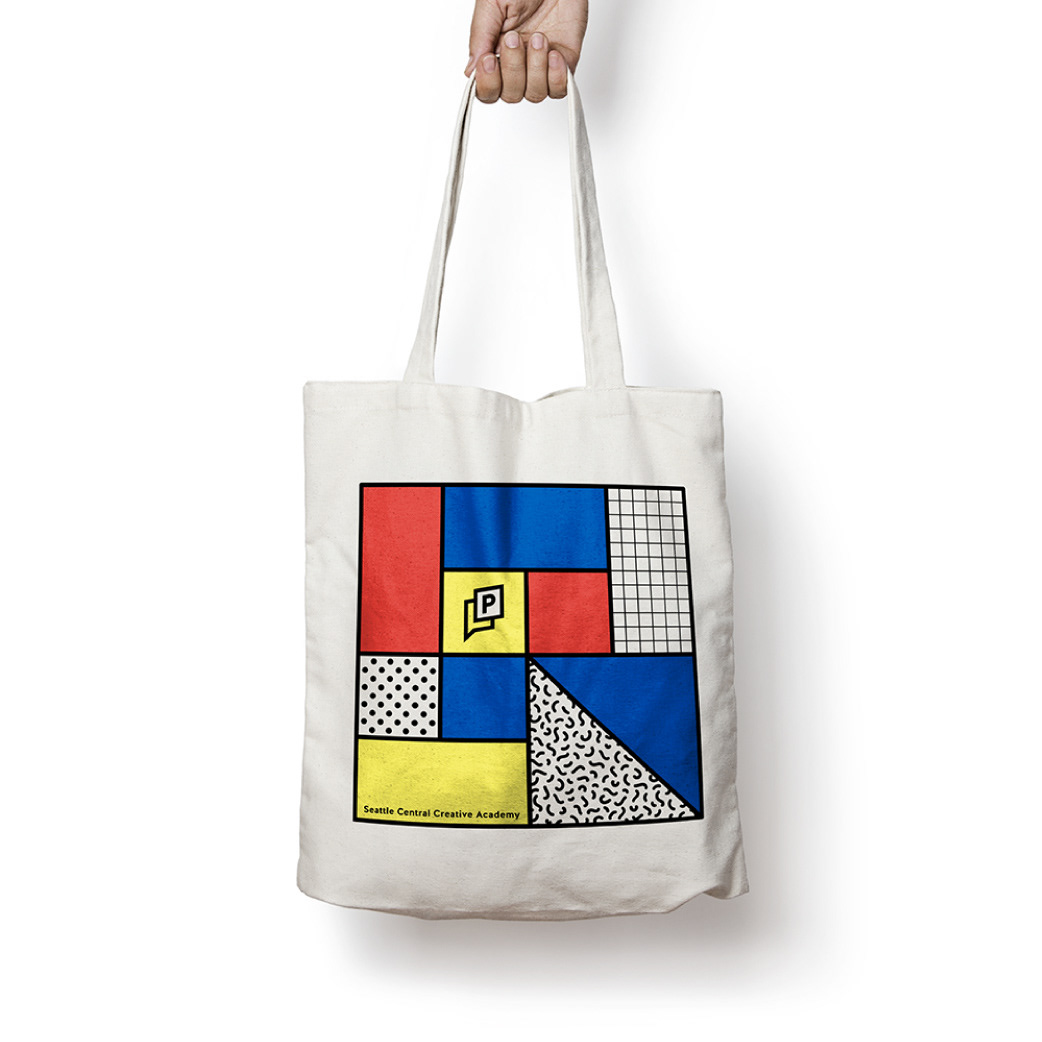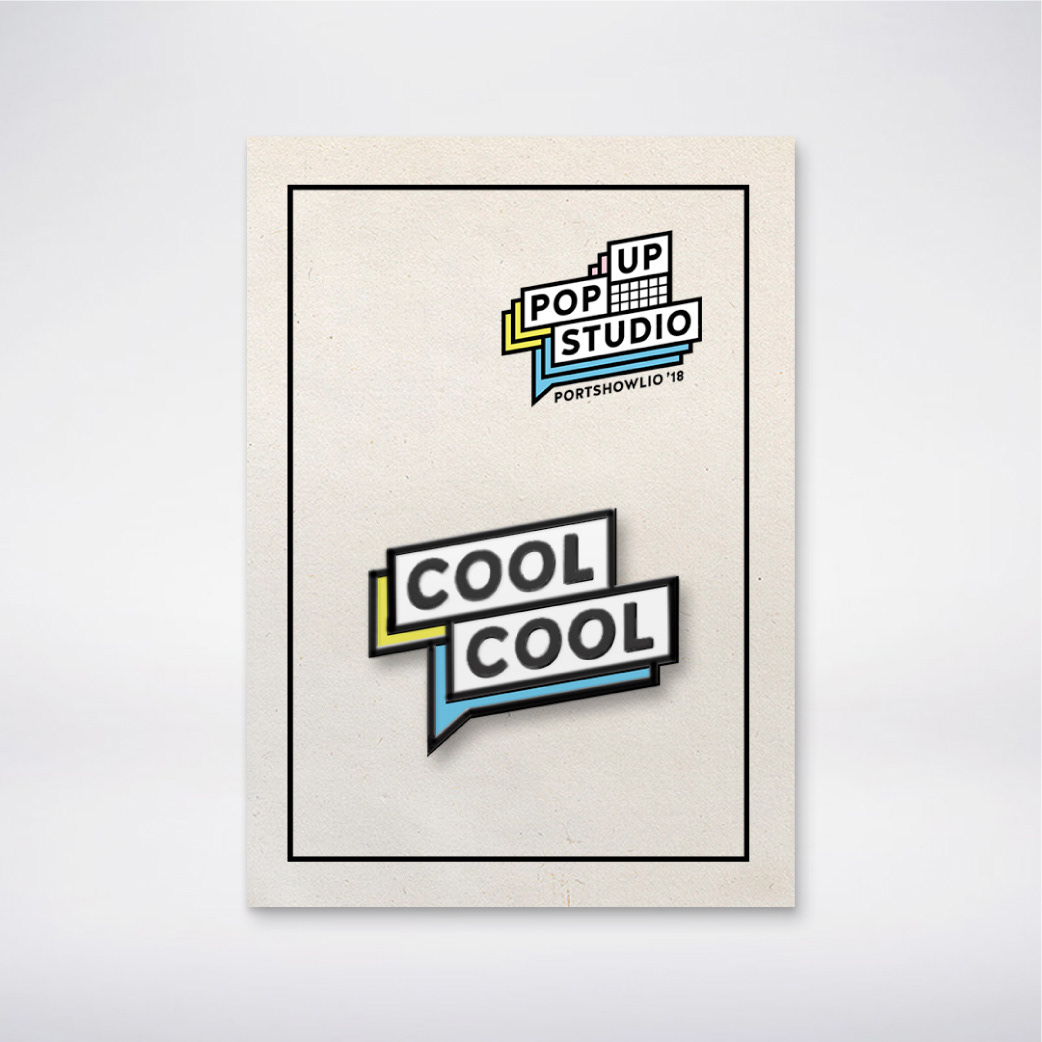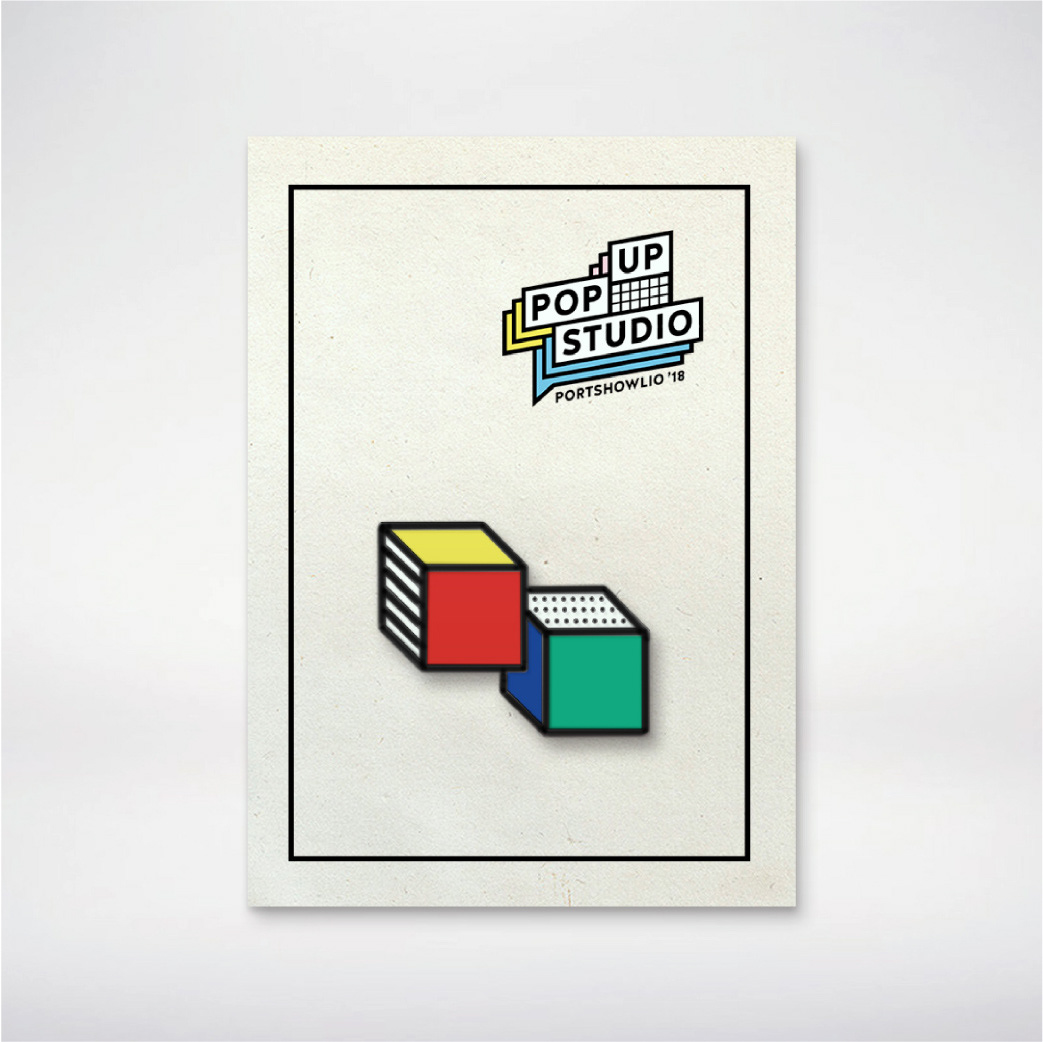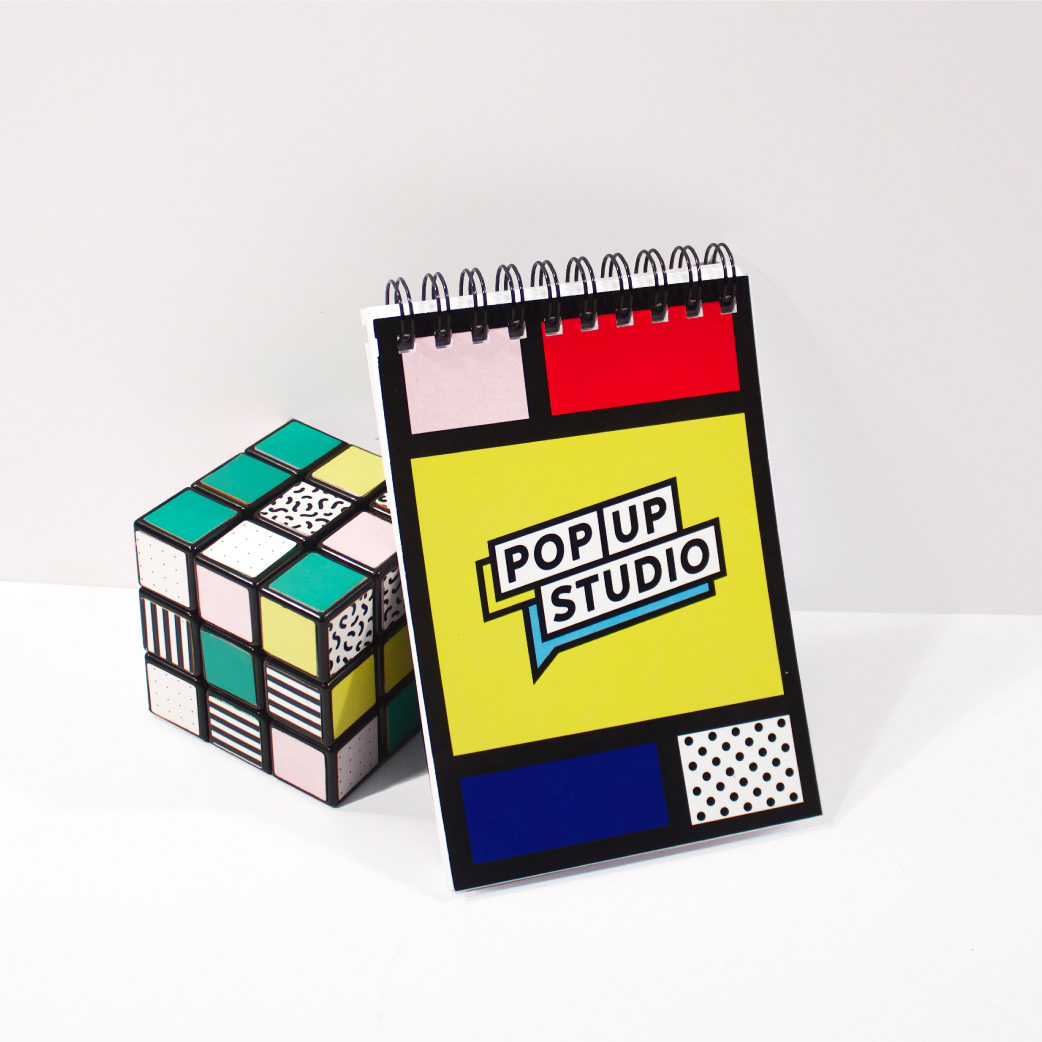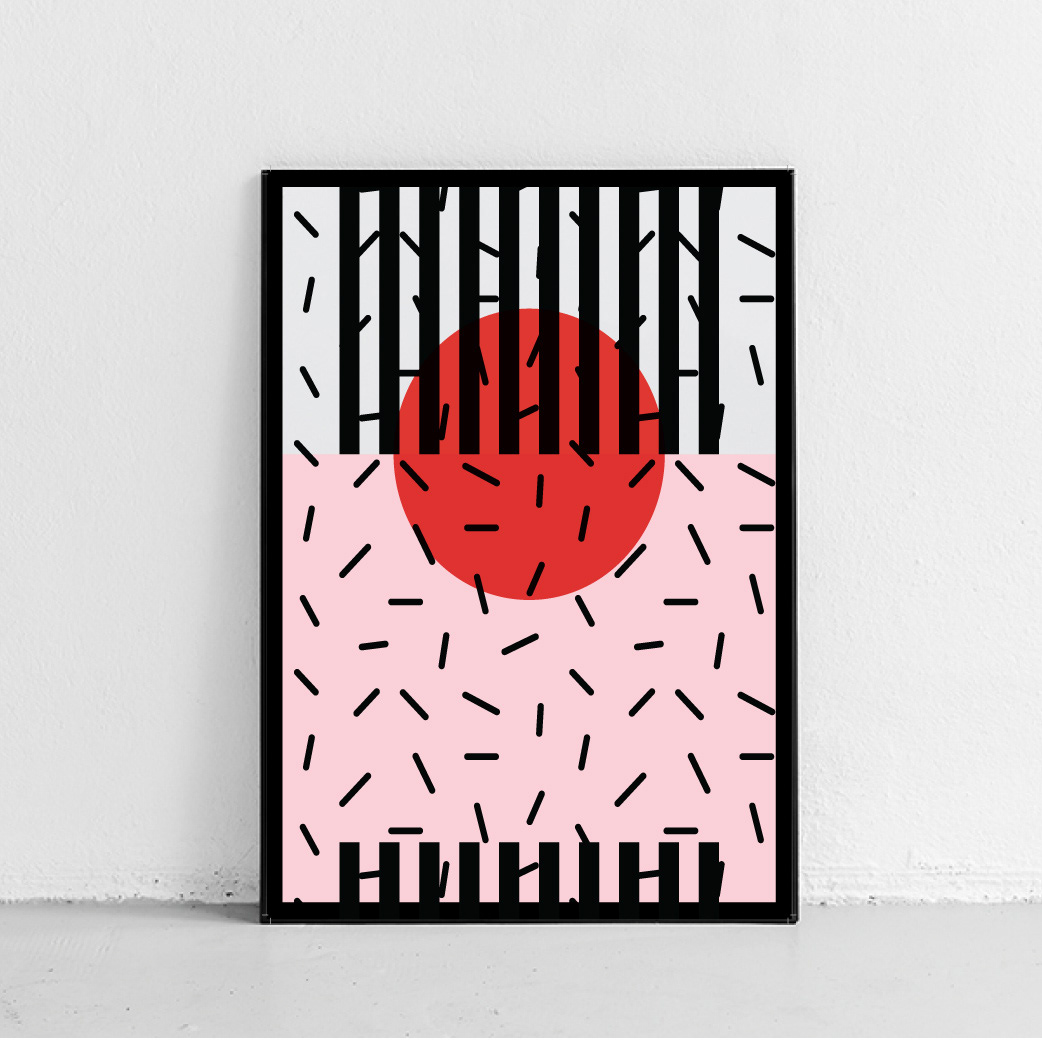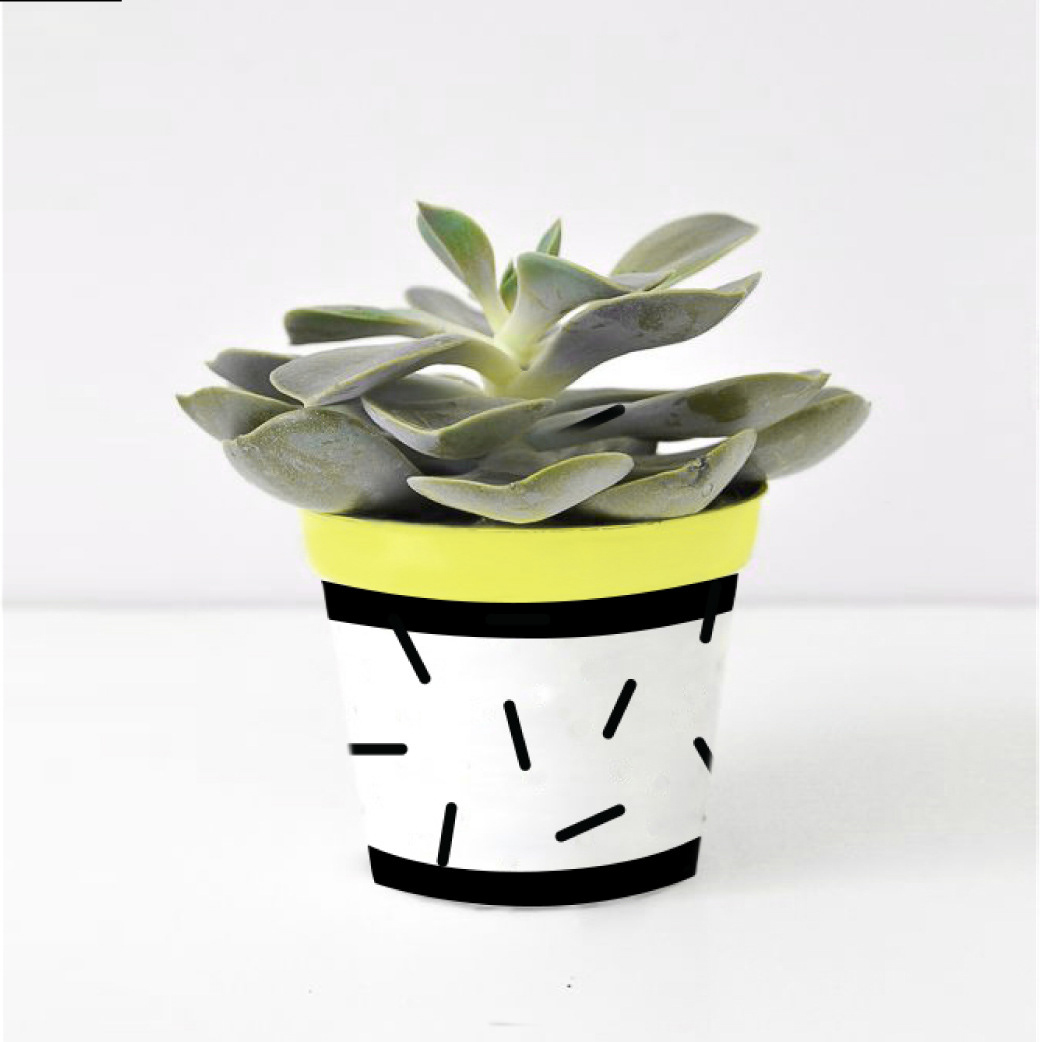 Marvelous Marketing
Lead by
Amy Harrington
, the marketing team was a small but mighty group of creative thinkers, who devised a multi-tiered VIP invitation system. Invited varied from branded postcards all the way to hand-delivered three-dimensional advent calendars filled with design supplies and treats counting down to the show. The marketing team also managed the school's social media account, posting candids, student work, and branded promotion for the show.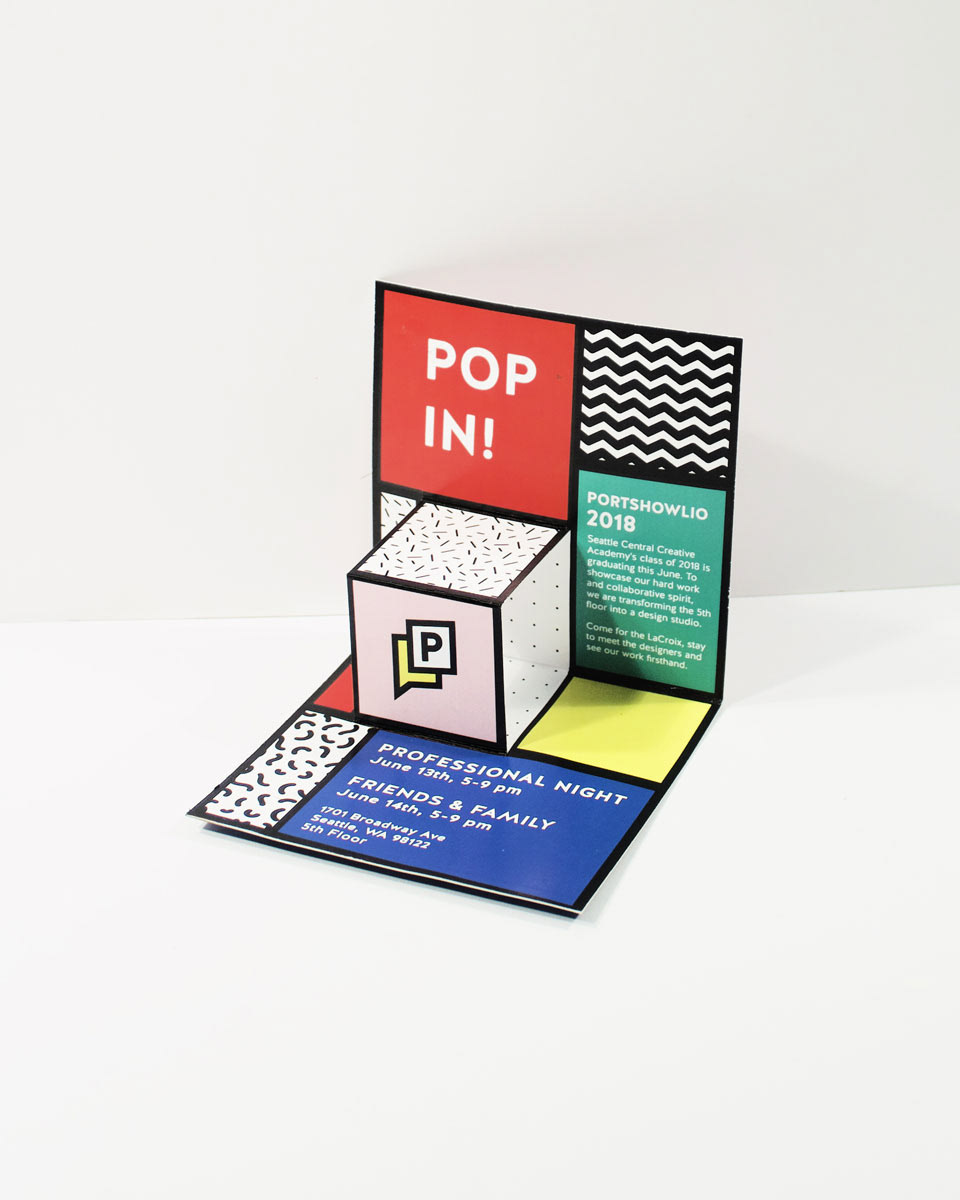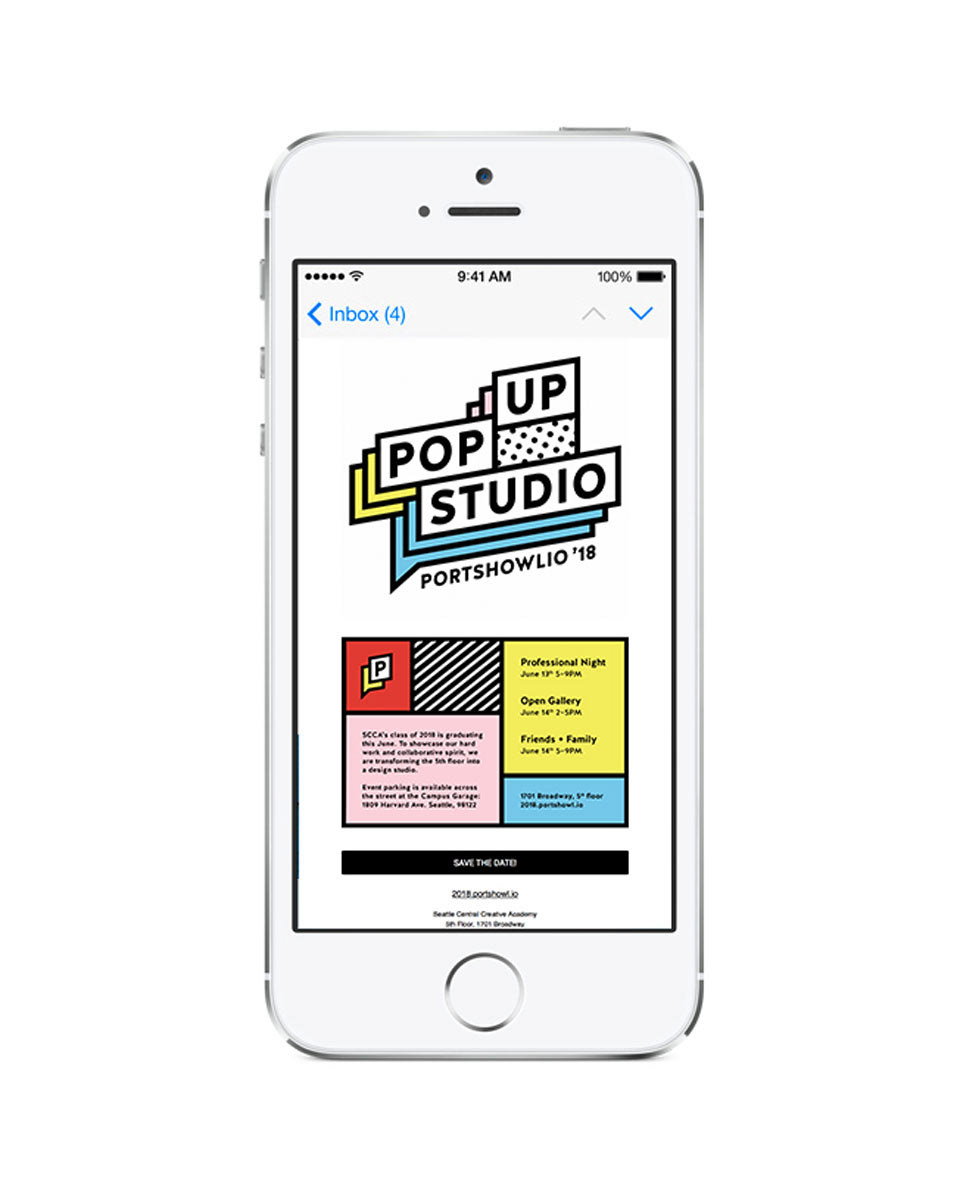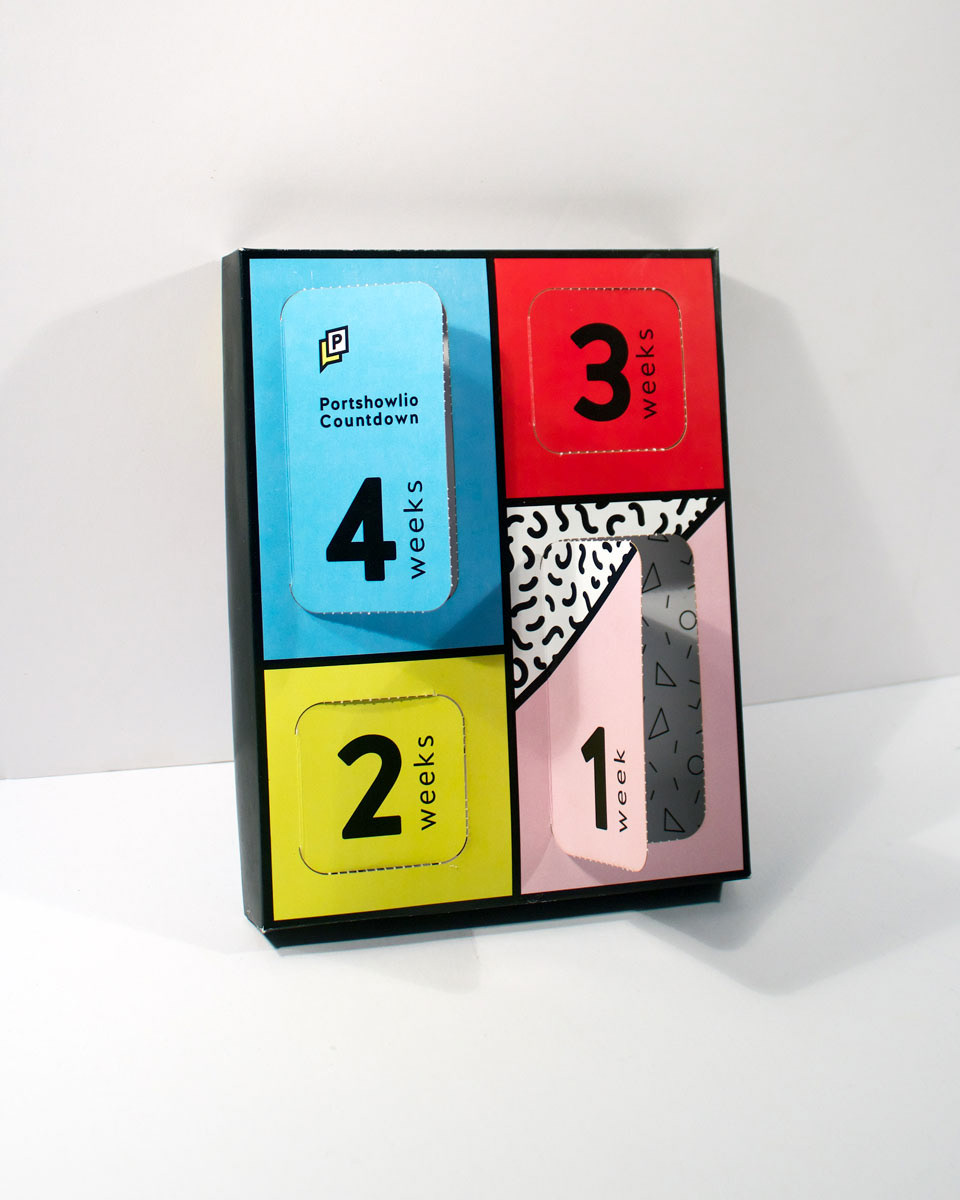 Volumes of Video
Lead by
Gabrielle Goldman
, the video team created a dynamic multitude of videos ranging from animation to promotional to features. The video team also coordinated an entire day of still and video photography of each student, designed to showcase our unique personalities in a way that felt comfortable to us.
Web Wonders
Lead by
Erin Millman
, the web team worked tirelessly for the first 9 weeks to launch an equitable, perfectly structured, Wordpress-based site that featured student work and headshots. Each student's individual page links to their personal portfolio website.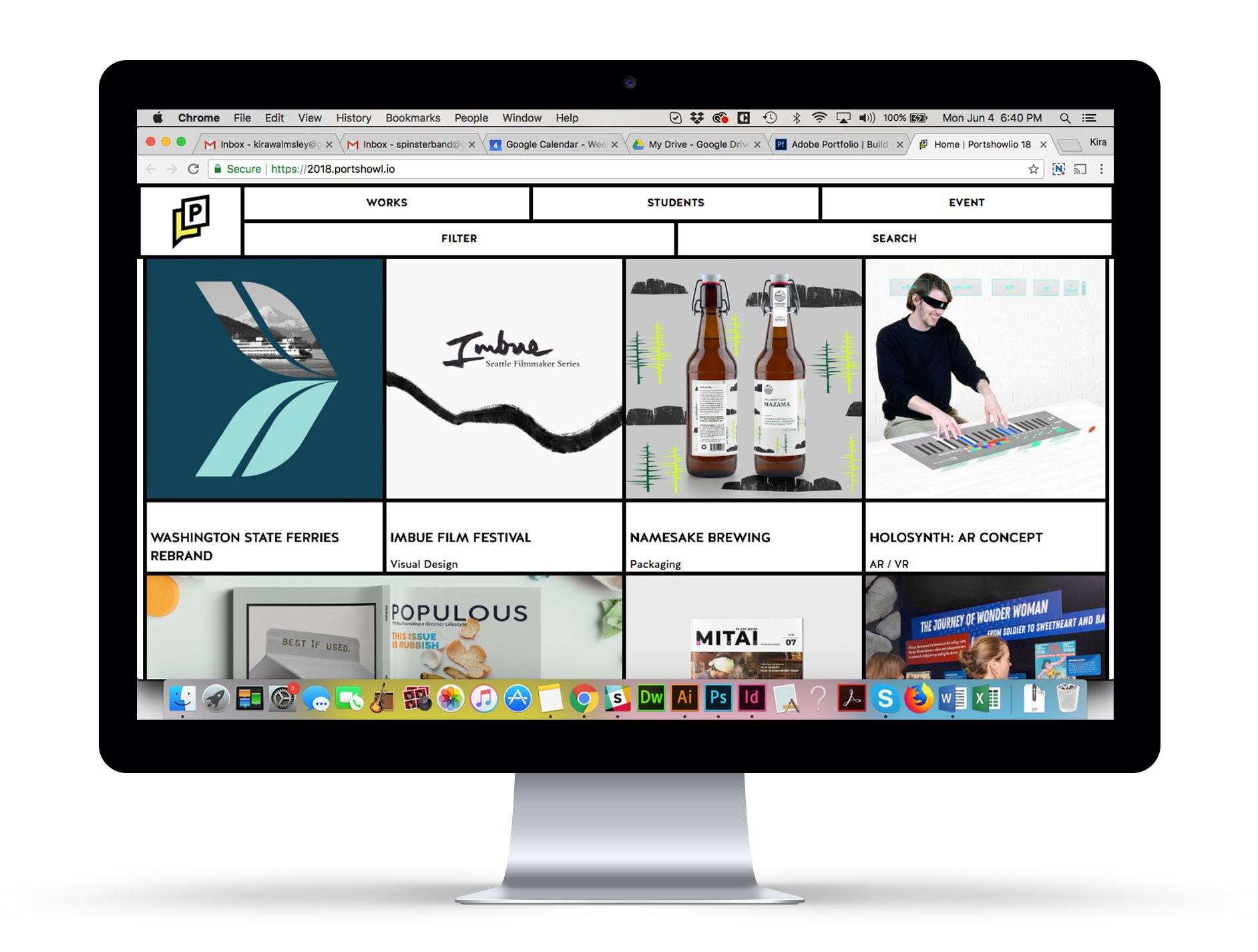 Exceptional Exhibits
Lead by
Jules Naujoks
, the exhibit team was the largest team, and the team that required the most legwork for actual execution. Exhibit absorbed many members of other teams over time, which helped them in executing the imaginative concepts they conceived of in the beginning of the quarter. Large scale materials and installation posed challenges to the team, but it was nothing they couldn't handle. Through collaboration, problem solving, spreadsheets, troubleshooting, and extensive testing of materials, exhibit brought the brand to life both gracefully and effectively.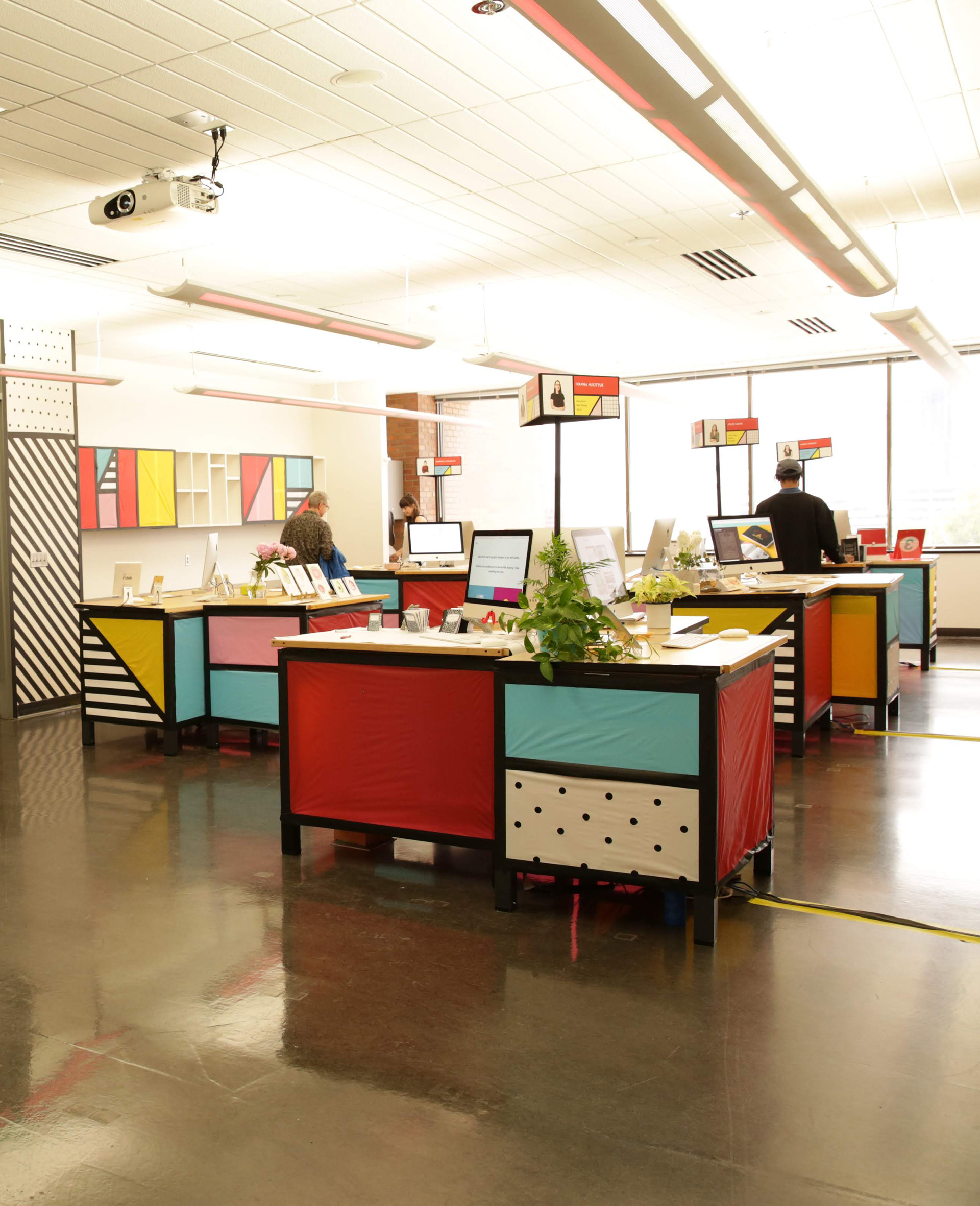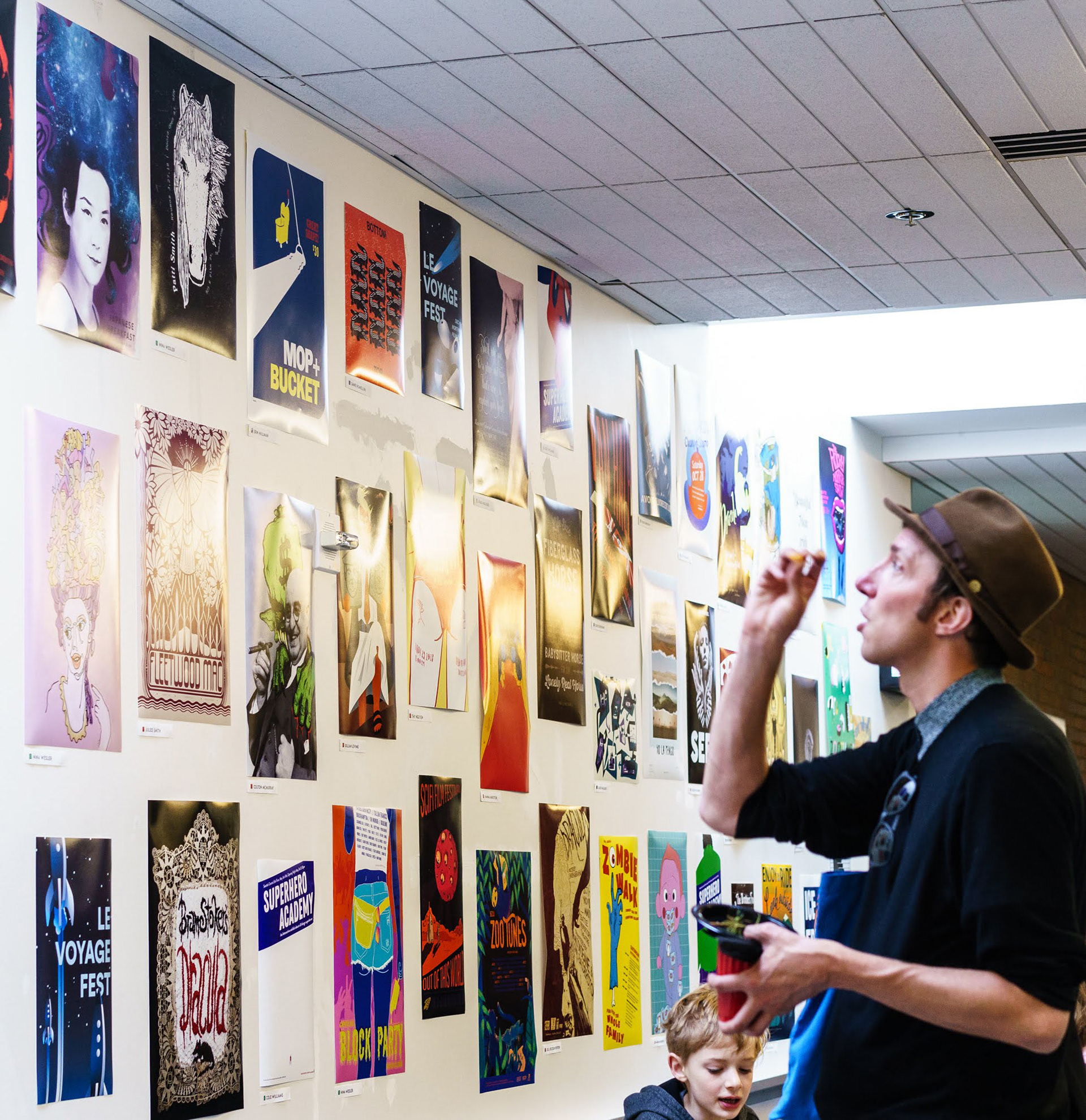 Persistent Production
Lead by
Mary Hannah Reynolds
, the production team worked together to produce charming and obscure objects such as branded cubes, bathroom signage, banana phones and magazine racks. The team was also in charge of wrangling the large scale printers for hours on end, to produce all of the class' gallery work.